How to Do a Faculty Led College Study Tour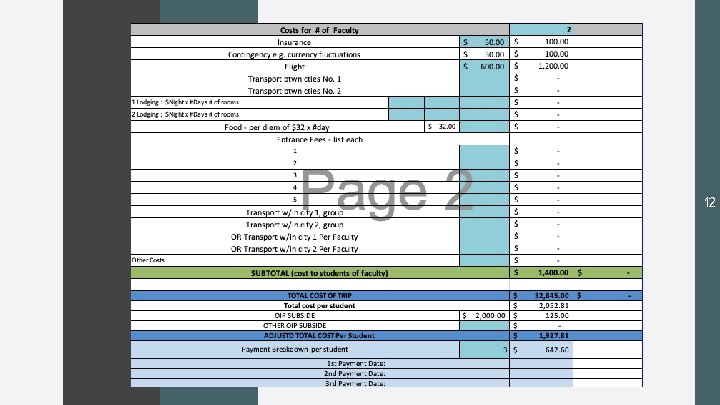 If you're wondering how to do a faculty-led college study tour, read on. Here are some tips for planning a custom study tour that will engage students from several disciplines. After applying for a faculty-led program, create a budget, and find a provider, you can start planning your customized tour. But before you begin planning, make sure you have a clear understanding of the expectations you want to set for students.
Plan a custom study tour that engages students from multiple disciplines
When planning a study tour, faculty members can create a custom itinerary that incorporates cultural and academic learning opportunities. This approach encourages tolerance for cultural differences and fosters cross-disciplinary perspectives. The tour can be tailored to include topics ranging from history to health, politics, and art. Students can also participate in cross-disciplinary activities that are not usually included in a standard tour.
First, the faculty member and student meet to discuss the program. Both parties ask questions and work out what is expected of them. A full value contract is a good idea, as it sets expectations for the tour and can be revised as necessary. The contract is also helpful when a student wants to go to a place that is off-limits to most students. A full value contract lays out the group's responsibilities and guarantees that everyone is safe.
The price of higher education is high, so professors will likely want to keep the cost as low as possible. However, students should still consider additional funds for their trip. Once the trip's pricing is determined, it's time to fill in the other parts. Flights, ground transportation, meals, and lodging are all essential expenses that must be accounted for. Once all of these components have been taken into consideration, the next step is to plan the itinerary and budget accordingly.
Apply for a faculty-led program
There are several steps involved in applying for a faculty-led college study tour. First, you should know when the program will run. Although summer is usually the best time, fall and spring semesters are also viable choices. If possible, you should begin the application process at least six months prior to the program. Upon acceptance, you may be required to complete a virtual or in-person interview with the faculty member. Faculty questions are designed to demonstrate that you understand the DSS and the study abroad experience.
Next, select the start and end dates of the trip. These must match the start and end dates of the course you are enrolled in. Typically, the tour lasts for one to four weeks. If you want to spend a longer trip, however, faculty-led tours can last up to eight weeks, as long as the start date and end date are the same. You can also select the exact duration of your tour.
Create a budget for a faculty-led program
As a faculty leader, you need to prepare a budget for a faculty-led university study tour. This amount should cover all expenses of the program, including flights, hotel rooms, and food. Faculty leaders should obtain original receipts and maintain an expense list for all Program payments. In addition, they should submit digital copies of all receipts for payment. Faculty leaders should submit bank statements and ATM receipts as proof of payment to support their budget.
As a faculty leader, it is important to consider the cost of the program. It is recommended that you go on faculty-led programs during the summer, but there are also fall and spring semesters that can be equally rewarding. Also, consider the cost of incorporating additional activities and speakers during your visit. You also need to consider the number of students who will be attending your faculty-led program.
Find a provider
If you are planning a study abroad trip, you can hire a provider to help you plan the details of your program. For example, a provider can help you find lecturers to give lectures in different countries or arrange for engaging cultural experiences. They can also plan your study abroad trip around the local customs and regulations. Many universities require providers to work with local providers, which can ensure greater liability protection. Spanish Studies Abroad is one example of a provider that is fully insured, offering comprehensive protection during the COVID-19 era.
To find a provider for faculty led college study tours, first research the institution's accreditation requirements. Some providers offer study tours for only one or two weeks, but you should be sure to check the length of the program before signing up for it. A study tour should not exceed four weeks. A shorter trip might be ideal for those who want to see the world and gain experience while completing their degree. Some providers also offer academic credit to students, which can count toward your major or minor requirements. If you're looking for a longer study abroad program, you can find a provider that offers a full semester of classes.